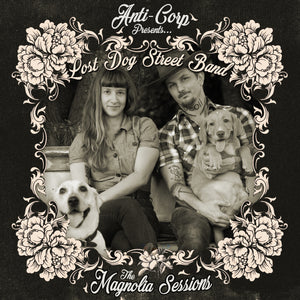 Single Music
ALBUM: Lost Dog Street Band - The Magnolia Sessions (Vinyl LP/Digital)
Regular price
$10.00
$0.00
Unit price
per
On a humid Summer evening, Benjamin Tod and Ashley Mae stood beneath a large Magnolia tree behind the Anti-Corp/Black Matter Mastering HQ and recorded some songs.
Track listing:
1. Shady Grove
2.Carmelita
3.Lungs
4. From The Day You Were Born
5. Moonshiner
6. Long John Dean
7. The Mountain
8. Dublin Blues
9. Ballad Of A Broken Man
Recorded live May 25th 2021 at approximately 8pm, on a hot 88 degree Nashville evening. All vocals and instruments performed by Benjamin Tod and Ashley Mae. Recording and post production by Dan Emery at Black Matter Mastering. On this session we used 2 AKG- C414 B ULS on vocals, 2 Shure SM81s on instruments and a homemade binaural mannequin for atmosphere.
www.LostDogStreetBand.com
www.AntiCorpMusic.com
www.BlackMatterMastering.com
---